Bio for Marty Snyderman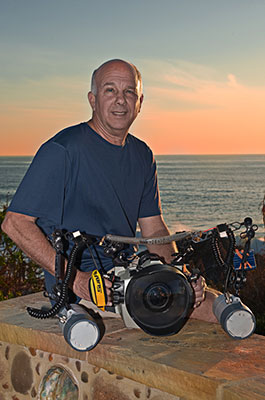 Marty Snyderman is a longtime still photographer, author, photography instructor, and speaker specializing in the marine environment. Marty's still photography has been used by the National Geographic Society, Nature Conservancy, National Wildlife Federation, Oceana, Shark Research Institute, and many major publications, natural history museums and aquaria that express interest in marine wildlife and ocean-related issues.
For twenty years he worked as a cameraman and film producer, and he has been awarded an EMMY for his underwater cinematography. Marty's cinematography has been seen on numerous National Geographic productions, the PBS series Nature, the Discovery Channel, the BBC, and many other networks around the world. He also filmed the underwater segments in the Warner Brother's hit Free Willy, a major theatrical release, and has worked on numerous award-winning series.
Marty is one of approximately 80 people inducted into DEMA's SCUBA diving Hall of Fame, making him a proud recipient of DEMA's 2008 Reaching Out Award.
Marty currently serves as the Marine Life Editor of Dive Training magazine. Every month he produces at least three columns for the magazine; (1) the underwater photography column entitled Behind The Lens, (2) a natural history piece entitled What's That, and (3) a column about his life entitled Always Learning. Marty also represents Dive Training magazine in Hawaii, and he happily teaches underwater photography seminars in dive centers in North America and at destinations around the globe. He is the Senior Editor and a columnist for California Diving News, and the co-author of a series of apps on underwater photography.
Marty serves on the Board of Trustees of the Reef Environmental Education Foundation (REEF at reef.org), an organization that among other things utilizes citizen volunteers around the world to provide data for research scientists studying the health of the world's oceans. He also serves as an advisor to the Shark Research Institute (SRI at sharks.org) and the Center for Oceanic Awareness, Research & Education (COARE at coare.org).